My bills are continuing to move through the House of Delegates. House Bill 822, which will modernize the Town of Occoquan's charter and bring its local elections in line with the rest of Virginia, was reported out of the Counties, Cities, and Towns Committee on Friday.
Also on Friday, I presented House Bill 821, adding a seventh judge to the Prince William County Circuit Court, before a Courts of Justice subcommittee. The bill was reported unanimously and referred to the Appropriations Committee.
House Bill 820, which will require the Department of Small Business and Supplier Diversity (SBSD) to conduct a disparity study every five years, was reported out of the General Laws Committee on Thursday. It will now go to the full House for a vote. Two other bills recommended by the Virginia Minority Business Commission – HB814 and HB815 – were reported from General Laws and referred to the Appropriations Committee.
REALTOR Association of Prince William in Richmond
On Wednesday, Prince William County's General Assembly delegation was visited by members of the REALTOR Association of Prince William. I was glad to provide their introduction in the House. You can watch those remarks below.
Town Halls
Last Saturday, I joined Senator Scott Surovell, Senator George Barker, and Delegate Briana Sewell for a legislative town hall. The event was livestreamed on Facebook; you can watch a recording here.
My next town hall of the 2022 General Assembly Session will be held at 1pm on Saturday, February 12th, with Senator Surovell, Senator Jeremy McPike, and Delegate Candi Mundon King. You will be able to join the event virtually at this link.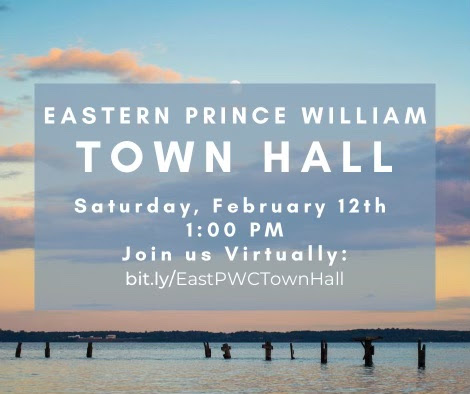 If you have any questions or comments about the General Assembly Session, please reach out to my office at info@delegatetorian.com or 703-785-2224.